Open Education initiatives at Capilano continue to grow: in 2021 alone, more than 2000 students were impacted, and cumulatively saved over $300,000 in textbook costs.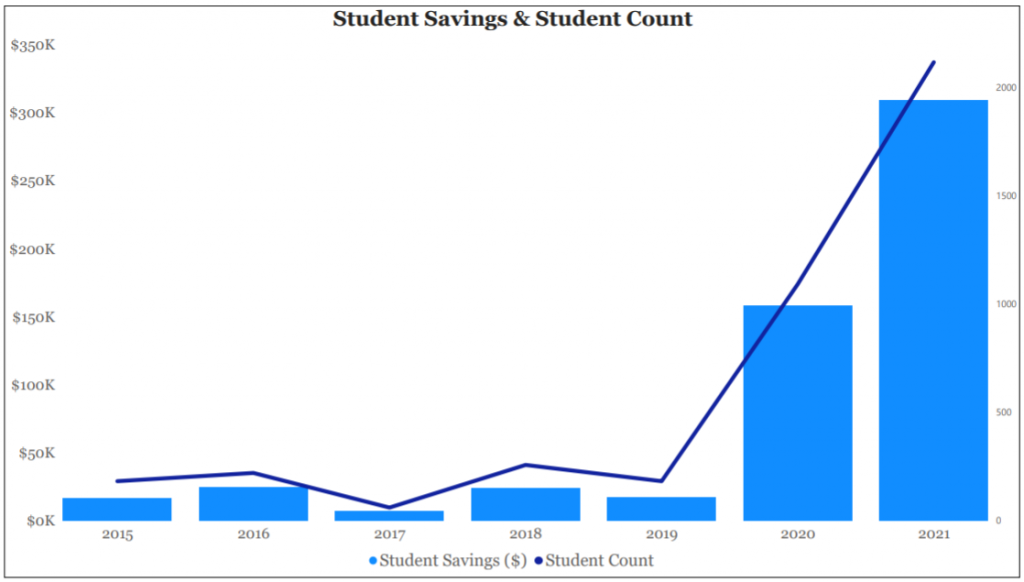 *This data is self-reported from Capilano University faculty.
Since 2015, the Faculty of Arts and Sciences have saved students over $450,000 by adopting Open Educational Resources (OERs). This success has been led by instructors in the Psychology department who recently agreed to collectively adopt an open textbook for both PSYC 100 and PSYC 101. The School of Academic Upgrading has also demonstrated leadership in OER usage, with the Adult Basic Education department accounting for the second greatest amount in student savings during the same time period.
*This data is self-reported from Capilano University faculty
Faculty Associate Update
For the second year in a row, CTE put out a call for Open Education Faculty Associates. Out of over a dozen submissions, four faculty-directed initiatives were selected in the 2021/22 academic year. These projects are ambitious in scope and reach, and will help to advance awareness and usage of Open Educational Resources (OERs) and Open Educational Practices (OEPs) on campus. The projects include:
Development of an interdisciplinary open textbook on entrepreneurship and new product development, with involvement from faculty and students from Business and STEM;
A series of drop-in workshops for educators on SPLOTS, an open pedagogical practice that uses visual narrative and web based tools to support engagement and learning;
A comprehensive survey, targeted workshops, and a business case sprint event designed for the School of Business; and,
Development of an open textbook for Sociology 100 that takes into account Canadian examples and inclusive terminology.
In addition, two Faculty Associates participated in the Regional Leaders of Open Education Network workshop series, meeting with educators, administrators, and Open Education leaders from across North America to identify strategies to build and sustain Open Education initiatives.
How to get involved
There are many ways to get involved in Open Education at Capilano. CTE collects information on faculty OER usage every year via the faculty survey, as well as through collaboration with the bookstore and BCcampus.
Visit the Open Education for Faculty webpage to access information, guides, and materials on Open Education, including resources to support equity and accessibility in the classroom.
A new Open Resource Working Group is in development. Are you interested? Please contact Faculty Associates Alyssa Hamer (alyssahamer@capilanou.ca) and Lydia Watson (lwatson@capilanou.ca) to get involved.