Centre for Teaching Excellence
Studio | Educational Technologies | eLearn Gradebook Setup
eLearn Gradebook Setup
The eLearn gradebook is a powerful tool for aggregating grades and communicating progress to students. We recommend that you set up your gradebook to mirror as much as possible the syllabus, so that students are easily able to recognize how their learning activities have contributed to their grades. 
For example, if this is the evaluation profile in your syllabus: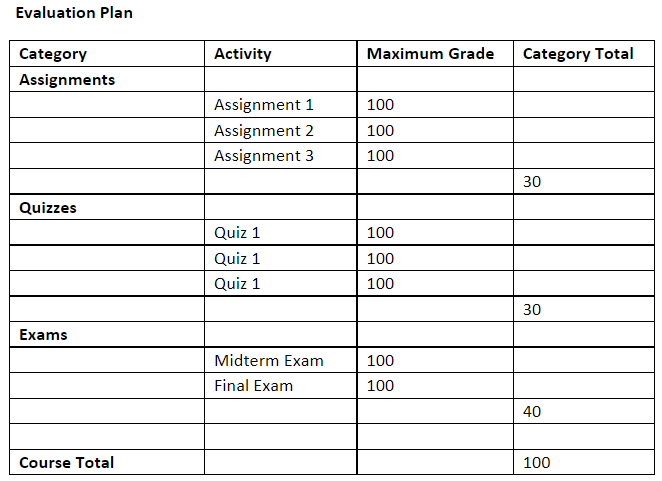 This is what your gradebook would look like: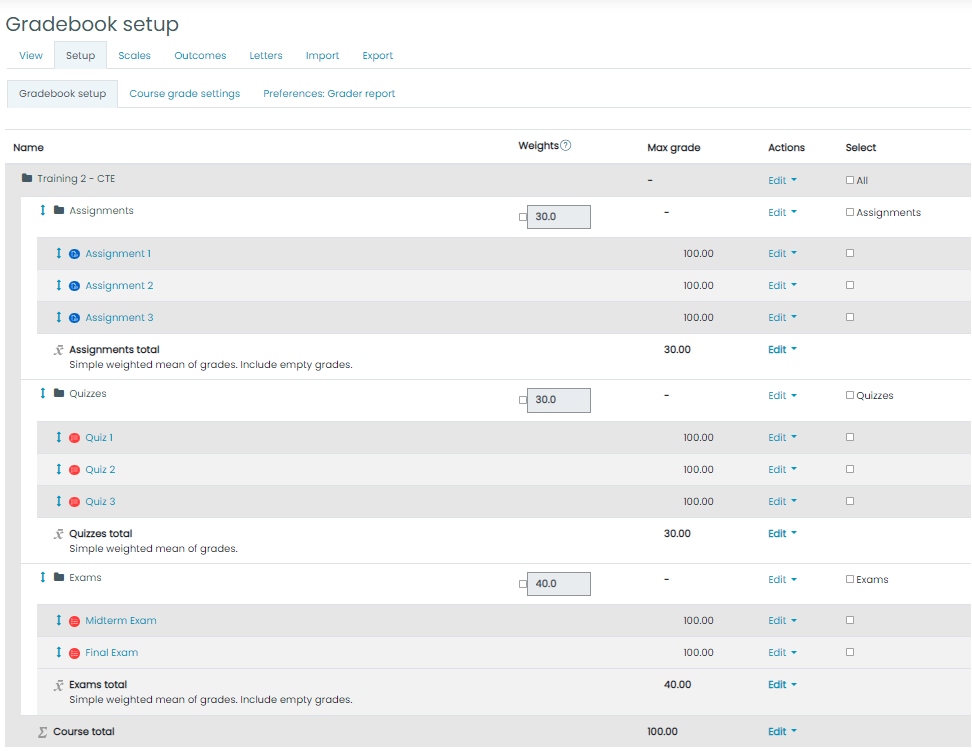 If possible, it's best to set up your gradebook first, before you add any learning activities to your course in eLearn. But if you have activities in there already, you can still move things around.
Here is a checklist you can use to walk you through the set up.
Things to remember:
Follow the evaluation profile in your syllabus – make your gradebook follow as closely as possible the language and categories used there.
Make sure that the maximum grade for the category matches its weight i.e., if assignments are worth 30% of the final grade, the maximum grade for the assignments category is 30. The categories should add up to 100.
If there are already assignments, quizzes or other activities in your course, move them to the corresponding category by clicking on the blue up/down arrow to the left and then clicking on the dotted black box inside the category.
You may want to add a category with a name like "Practice items" or "Zero-weighted activities" for activities which require feedback – for example, a practice quiz or an icebreaker activity – but do not contribute to the final grade. This would have a maximum grade of 0.
When you add more activities to the course, be sure to select a grade category for each one of them in the activity settings under Grade.
Questions? Send us an email or set up a consultation with an Educational Technology Specialist at edtech@capilanou.ca.