In 2015, I got my first introduction to the world of Open while taking a course taught by a member of the Public Knowledge Project. Even though I had paid for my fair share of expensive textbooks and course packs over the years, I'd never realised the very real barriers that the traditional scholarly publishing model places on a range of academic activities for researchers and students across the globe.
While sitting in that classroom one evening, I recall seeing a strange, warped-looking map. I was told this image represented countries where scientific research had been published for the previous year.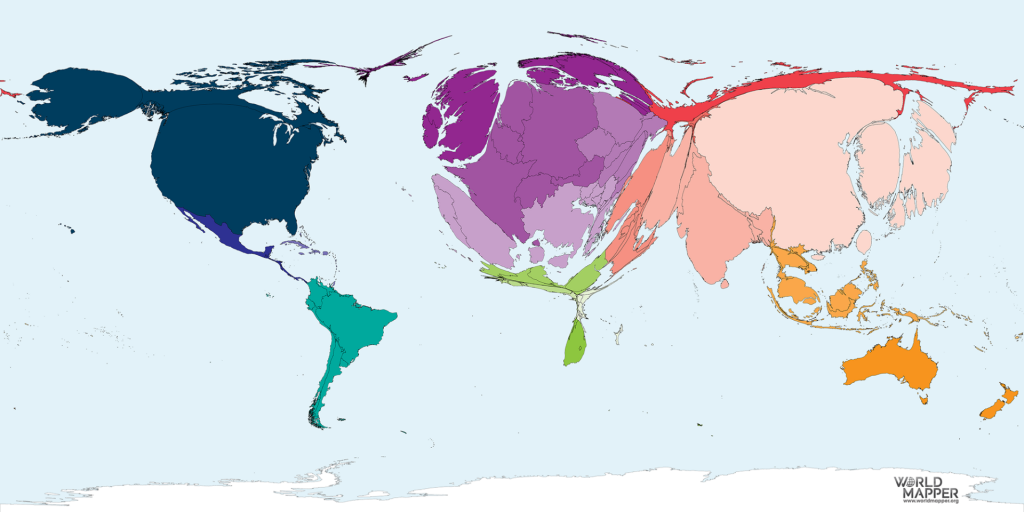 World Mapper. "Science Papers Published 2016." Retrieved from https://worldmapper.org/maps/science-paperspublished-2016/.
This map was a total wakeup call to me – as I saw how tiny the scholarly footprint was for scientific materials published across Africa, Latin America, and Southeast Asia, I couldn't believe this was not a topic of greater discussion in my other classes. And this map could be replicated for nearly any scholarly discipline. I continued to learn about the extractive nature of the scholarly publishing model: how, due to perceived prestige and tenure, scholars from the Global South were pressured to publish their findings in English in high impact journals in the Global North; how this decision led to research about the Global South then becoming inaccessible, financially and even linguistically, to many in those very regions where the research had taken place; and that, as a result, research on topics of vital importance to these regions had been increasingly waylaid in favour of topics that would appeal to scholarly audiences in the Global North.
The opportunity to learn about alternatives to this model, namely Open approaches to scholarship, was refreshing. Since then, I've been an advocate for Open models in post-secondary settings, and thanks to an Open Education Sustainability Grant from BC Campus in 2020, I've had the opportunity to put my passion into action as the Open Education Faculty Coordinator with Capilano U.
I'm excited about some of the new initiatives happening across our campus that will result in greater visibility and support for open educational practices. There are already several faculty using Open Educational Resources (OERs) at Capilano this term, including Karen Ewing (GEOG 112), Derek Murray (HIST 209), Paul Ottaway (STAT 101), and all sections of PSYC 100 & PSYC 101. And over the coming months, I'll be working with four faculty members in Psychology, Human Kinetics, English, and STEM to incorporate Open Educational practices, resources, and assignments into over a dozen courses. Capilano will also be developing a plan to better track how and where Open Textbooks are being adopted into classrooms.
Getting involved in the Open movement doesn't require a massive shift in how you teach or approach your work. It's about seeking out alternatives, and finding what might work for your own practices. For example, the faculty members I'm working alongside have chosen to use the open-source Jitsi conferencing platform to host our regular meetings.
Are you interested in learning more about Open Education, or how to adopt OERs into your classroom? Here are some tips to get you started:
If you'd like to find out more about Open Education initiatives on campus, or to get involved, please send me a message at alyssahamer@capilanou.ca.