Screencasts: What is it, why use it?
Screencasts are short narrated video recordings of your computer screen. When thoughtfully planned, edited and aligned with learning objectives, a screencast can be a student-centered and engaging learning experience, and provide a simple way for students to access course content at anytime from anywhere. Additional instructional purposes include freeing up class time for interactive activities (by "flipping the classroom"), providing feedback on assignments and modeling problem-solving. Instructors at CapU also use narrate their PowerPoint presentations to make them accessible to online learners.
Making Screencasts: The Pedagogical Framework
In this video, math professor Robert Talbert shares his view on screencasts as part of the flipped classroom instructional model. He also offers the following basic design principles:
Keep it simple
Keep it short (three five min videos with activities in between)
Keep it real (offer inside perspective)
Keep it good (intentional about researching and planning)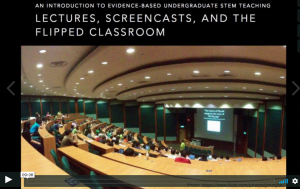 Engaging Students in Self-regulated Learning with Screencasting
Screencasts often focus on expert performance and fail to consider how the students will actively engage with the content. This article gives an overview of different instructional design approaches to screencasts including self-regulated learning.
CapU Faculty Offering Advice
Many CapU faculty are currently creating screencasts or narrated PowerPoints for instruction with free tools such as Screencast-o-matic or Jing or with a licensed screen recorder such as Camtasia.
Barb Mathieson, ECE faculty, regularly uses Screencast-o-matic for marking: "I mark all my papers using screencast-o-matic because it allows me to verbally and visually walk students through their paper and show them exactly what they did well and what needs to be changed. For example, when I'm talking about citations it's much easier to show them what needs to be done than typing it all out."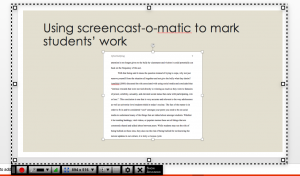 ABA faculty, Miriam Elfert and Richard Stock, use Camtasia to record weekly lectures and make them accessible to online learners. They offer the following advice for recording the screencasts:
Chapter the lecture into smaller clips
Edit out any unnecessary bits and pieces where I'm getting the presentation ready and not actively talking
Crop my talking head to reduce background 'information' (e.g., bookshelf behind me). In my office at home I put up a screen behind me so that the background is neutral and not distracting.
Add annotations (text) to the beginning and end of the videos, and transitions (similar to animations in PowerPoint) to make the presentation more polished and professional.
Use earbuds/headset with a mic improves the audio recording
Elevate the camera so it is level with your face
Use an engaging and conversational style, like you are speaking to an individual on a Skype call.
Further Links & Resources