A CONVERSATION WITH Nadja Neubauer: ON Experiential and Accessible Learning for everyone
BY BETTINA BOYLE
Experiential Learning with Virtual Reality
Nadja comes into my office beaming with energy and excitement! Why? She just taught the first class of the semester of her favorite course: Dementia & Mental Health where she begins the course by immersing each student in an 8-minute virtual reality experience of what it feels like if you have dementia. Wow! We do that kind of cool stuff at CapU? I had no idea. But there's more…
Nadja teaches in the Health Care Assistant program. As she tells me about the virtual reality experience and the Health Care Assistant program at CapU, for which she recently became the coordinator, her passion for motivating each and every student to learn shines through in every word. With the virtual reality experience I'm teaching them what the people they will eventually be caring for experience. It's very powerful, and the reflections and debrief afterwards reveal that students are shocked!
Students wear equipment that allow them to experience the challenges and frustrations of a person with dementia. The Virtual Dementia Tour is a research and evidence-based program, and CapU is the only university in Canada to use it. It's experiential and it awakens empathy. Nadja is deeply interested in how students learn, and as the conversations unfolds, I start to get a sense for how virtual reality is just one example of how she makes learning accessible and skillfully uses active learning experiences to pique her students' interests.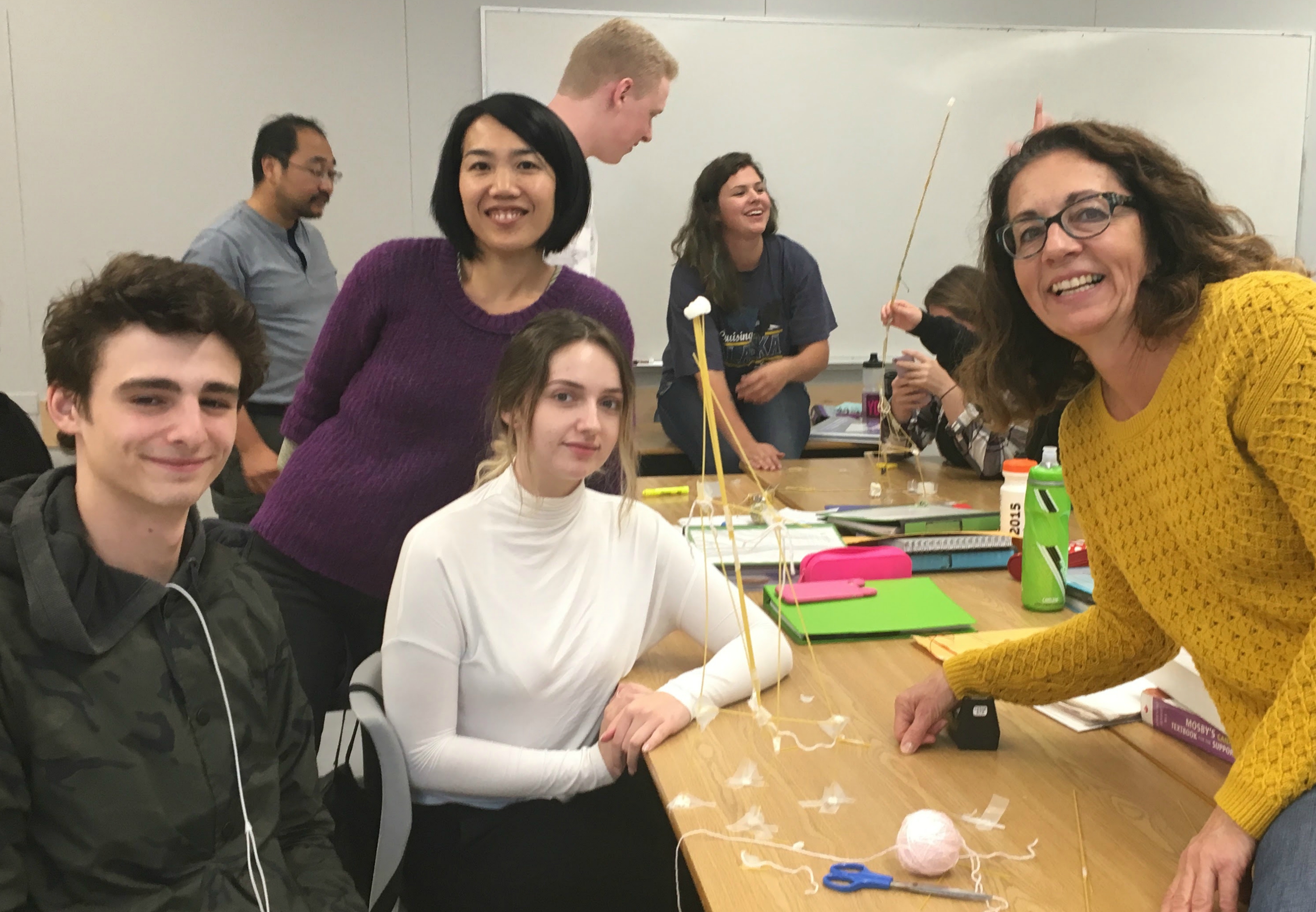 Igniting a Hunger for Learning – in Every Student
Nadja comes from a nursing background and describes herself as an "applied instructor", who shares stories and real life experience. Building relationships and creating a safe space for learning and making mistakes is critical to the way she teaches. Her students come from diverse backgrounds and range in ages from 17-60 years old. Some of them are learners, who were told they were never going to make it through high school. It strikes me that Nadja has made it her goal to prove those people wrong: My goal is to ignite a hunger for learning and inspire every student to go further, to be exceptional caregivers, she says. I try to treat each student with respect, like they are my equals and future colleagues.
Perhaps the reason Nadja is successful in achieving her goal is that she is practicing and modelling a passion for learning and growing in everything she does. A few years ago, Nadja got together with other CapU instructors through a faculty learning community to re-design a course following the principles of Universal Design for Learning (UDL). UDL is defined as "a framework that guides the design of courses and learning environments to appeal to the largest number of learners"[1] . UDL's three principles of multiple means of engagement, representation, and action and expression allows instructors to accommodate diverse learners, regardless of discipline. This framework immediately made sense to Nadja. It's a way to provide richness and to make learning fun accessible and enjoyable for students. The principles can be applied to anything, she explains.
An example of fun accessible learning in Nadja's courses is when her students have the option to present their research project either as a video, a voice thread, a drawing or a role play. An oral exam is now also an option in one of her courses. You have to learn to offer different guidelines, and you will have to be open to assessing people differently, she counsels.
Nadja also feels that by broadening the profile of a student, we will allow ourselves to prepare much better for the incoming secondary students over the coming years. In fact, Nadja's main source of inspiration to start thinking about making learning more accessible came as she watched her two step sons struggle in a traditional program in primary school. They both got an Individualized Education Program (IEP) and it made a huge positive difference to their learning.
Why doesn't everyone have an IEP? Nadja asks. And while the critical pessimist insides me is about to protest and counter this with some rational explanation, something makes me pause as I realize: This is exactly what she is doing for her students!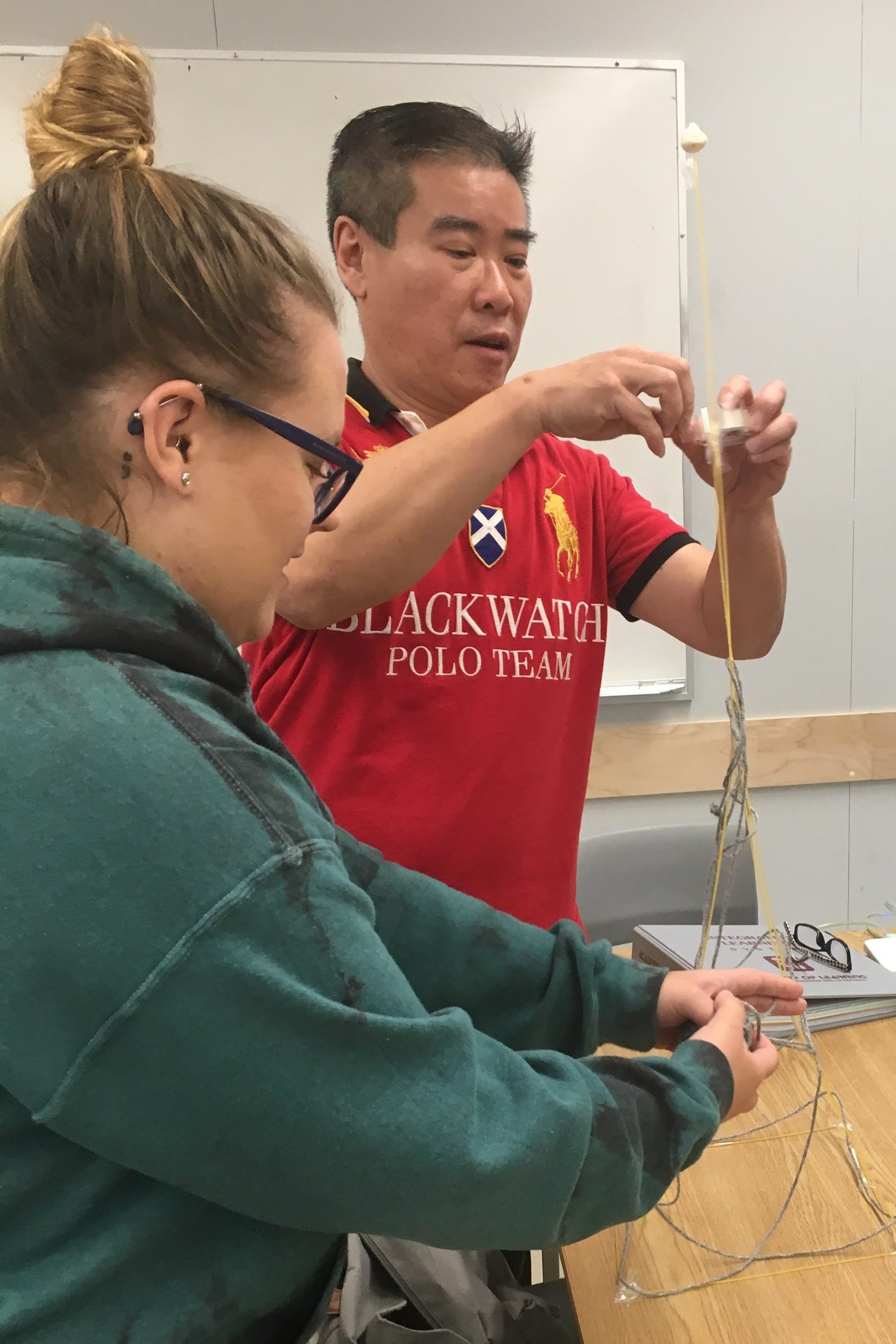 Accessible Learning through Location
Meeting students where they are can also be quite literal. Part of Nadja's coordination time is currently spent supporting a special offering of the Health Care Assistant program for indigenous students where all theory classes are offered at the Squamish Nation's Eslha7an Learning Centre. The initiative was born through her experience at the S'TEṈISTOLW̱ Conference at Camosun College, where she discovered how walking onto campus was a large barrier was for some indigenous learners. Together with Betsy Alkenbrack, she started partnering with the Squamish Nation's Learning Coordinator Tracy Mitchell. Funding was approved and the program kicked off in September this year.
My conversation with Nadja has been like a virtual reality experience of what learning can feel like if it's accessible to everyone – whether it's through technology, teaching methods or location. She also leaves me excited to know that she and Annabella Cant will be heading up a new CapU Faculty Learning Community on Creating Inclusive Learning Environments. Because, as she explains, the reason I get up in the morning is my students here at CapU. We are a hidden gem.
I agree. And, I'm also pretty sure that Nadja's students feel that way after experiencing one of her classes.
Inspired by Nadja? Here are some ways to learn more:
Quick facts:
Which faculty/department are you in?
Health Care Assistant Program, School of Allied Health
How long have you been teaching at CapU?
7 years
How many sections do you teach?
8 sections including coordination role.
Favorite thing to do when you're not teaching?
When not teaching or reading about teaching, Nadja can be found doing all things outside in her community in Squamish (in particularly, but not limited to, paddle boarding, hiking and running)
[1] https://taylorinstitute.ucalgary.ca/sites/default/files/UDL-guide_2018_05_04-final.pdf last accessed October 23, 2018