Centre for Teaching Excellence
Program and Events
Please click workshops and programs to see the detail. If you have any question or suggestion, please email us at cte@capilanou.ca!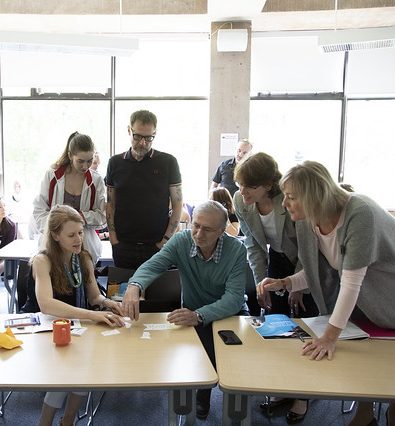 Instructional Skills Workshop
Jan. 24, 31 Feb. 7, 2020
Feb. 18, 19 and 20 2020
Apr. 28 -30, 2020
Active Online Learning
Feb. 18 – Mar. 3, 2020
(2 weeks)
Teaching ePortfolio Workshop
January 22, 2020
1:30-3:00pm
BR126
Have some great teaching ideas that you would like to preserve in an eportfolio? December is the time to plan your New Year's resolution to build that Teaching eportfolio. CTE is running a 90 minute Teaching eportfolio workshop on January 22, 2020. In short lightning rounds you will get to explore how to curate content, hacks on self-refection, and where to look for evidence of your teaching successes. There will also be a walk-through demo of WordPress so be sure to bring your laptop.
TEACHING Triangles
Kick-off meeting:
Thursday, January 23, 2020
11:30 am – 12:30 pm
FR402A
New inspiration, reflection on teaching, peer support! Join a Teaching Triangle this fall and experience how this low-commitment, non-evaluative program can inspire or transform your teaching. Contact CTE or click here to learn more. Light lunch will be provided. If you have any dietary ristriction, please let us know at cte@capilanou.ca
If you have any question, please contact us at cte@capilanou.ca
FACULTY MENTORING PROGRAM
The faculty mentoring program supports faculty at all levels of experience and promotes an ongoing sense of community for faculty. Mentoring can focus on any aspect of professional activity from teaching-related activities (e.g., implementing new instructional activities, managing marking, flipped classrooms, blended learning, online learning) to program and curriculum development to scholarly inquiry and research. The mentoring program is geared towards the particular needs of the faculty member. Faculty requesting mentors are paired with experienced faculty.
*Application form for faculty wanting a mentor or willing to be a mentor available by emailing cte@capilanou.ca
New Year, New Ideas, New Colleagues & Teaching Tech-Celerator
If you are new to teaching at Capilano or looking for ideas to get your classes off to a great start, sign up for the New Year, New Ideas, New Colleagues event Friday, January 3, 2020 in LB 322. Please bring your laptop to this session.
New Year New Ideas New Colleagues: 9:30 a.m. to Noon, Friday, January 3 in LB 322
•Activities for the First Week of Classes and Beyond
•Introduction to E-Learn and the Faculty Evaluation Process
Teaching Tech-Celerator: 1 p.m. – 2:30 p.m., January 3 in LB 322
•E-Learn: Design, Gradebook, Assignments, Forums
•E-portfolios
•MS Teams
Sign up for either or both of these sessions now!
Faculty Learning Community: Teaching Underprepared Students
Dr. Mary Giovannetti will be facilitating a faculty learning community on the critically important topic of teaching underprepared students. Expect to experience a comfortable, confidential, collaborative learning environment that fosters innovative as well as universal teaching and learning approaches to support both students and faculty.
The FLC will be held on seven Fridays from 1 – 3 p.m. in the Centre for Teaching Excellence during the Spring 2020 semester. Sign up now and enter these dates in your calendar!
FLC Dates:
Friday, January 17 and 31
Friday, February 14 and 28
Friday, March 13 and 27
Friday, April 3
Please register below!
Please contact us at cte@capilanou.ca for any questions or concerns
LIBERATING STRUCTURES – CAPU PRACTICE GROUP FOR FACULTY
Come practice and experience the power of Liberating Structures in a safe and welcoming peer environment. The practice group meets monthly and all faculty are welcome to drop in! Last Thursday of the month at 1:00 – 2:30 pm in LB145.
January 30, 2020
February 27, 2020
March 26, 2020
CAPU BOOK CLUB
Our book choice is A Mind Spread out on the Ground by Alicia Elliott, a Tuscarora writer from Six Nations of the Grand River. This book tackles issues of racism, oppression, and trauma and poses key questions regarding the treatment of Indigenous peoples.
David Geary will co-faciliate the book club, which will be held on the following Tuesdays from 1:00 – 2:20 p.m. at the CTE, Fir 402A:
•Tuesday, January 14 and 28
•Tuesday, February 11 and 25
•Tuesday, March 10 and 24
Mark these dates in your calendar and sign up now!
The first 5 participants who commit to attending all six book club meetings will receive a free copy of the book.
All faculty member welcome!
Flexible & Online Teaching Group
Are you teaching an online or mixed mode course this fall?
Interested in more support, or in learning from others, perhaps as a weekly chat group, a book club, a community of practice or workshops?
If yes, come help shape this group! This session is your opportunity to share questions and ideas for effective, engaged and learning centred teaching through flexible and online formats. You will come away with new connections and inspiration, and be able to sign up for professional development opportunities with others who teach online in the fall.
Facilitators: Barb Mathieson & Bettina Boyle
Register now by emailing cte@capilanou.ca
Reconnect Reflect Recharge
You are invited to the Centre for Teaching Excellence's newest event – Reconnect! Reflect! Recharge!
Thursday, February 27, 2020
11:30 am – 12:50 pm in the CTE, Fir 402
You will have the opportunity to connect/reconnect with colleagues from other disciplines, reflect on your teaching experiences at Capilano, and recharge after midterms, while enjoying delicious food and interactive activities.
This event is open to all faculty and limited to the first 25 people who sign up, so sign up now!
Sparkshops – On Demand Mini Workshops
Sparkshops are on demand mobile mini-workshops, facilitated by CTE or a CTE faculty associate. Sparkshops take place during department meetings, faculty meetings or other teaching related gatherings.
The intention of the Sparkshops is to stimulate exploration and departmental conversations around teaching and learning. Each session offers:
An introduction to a specific evidence-based instructional practice or teaching technique
Examples of applications in the classroom
Reflection on how and why to implement this technique
Current Sparkshop Topics Include:
Using Formative Assessment to Gauge Student Learning in the Classroom
Easy Active Learning Strategies
Rubrics in a Flash: A Tool for Students and Teachers
Engaging students with In-Class Online Quizzes
Virtual Coaching hours: An alternative to Traditional Office Hours
Powerful Questions for Deeper Thinking and Better Classroom Discussions
Click here to book a workshop for your next department meeting
While each of our Sparkhops above are designed with CapU faculty in mind, we would like to acknowledge Boise State University Center for Teaching and Learning as the inspirer and originator of the concept.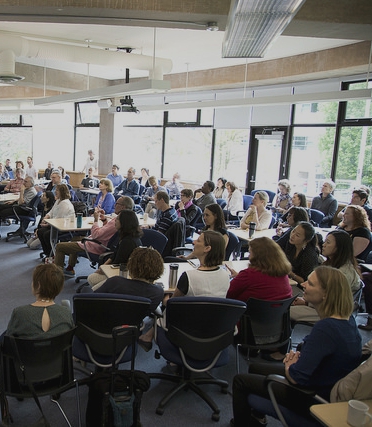 Capilano University is named after Chief Joe Capilano, an important leader of the Squamish (Sḵwx̱wú7mesh) Nation of the Coast Salish people. We respectfully acknowledge that our campuses are located on the territories of the Lil'wat, Musqueam, Sechelt (shíshálh), Squamish and Tsleil-Waututh Nations.
Capilano University | 2055 Purcell Way | North Vancouver | BC | Canada | V5J 3H5